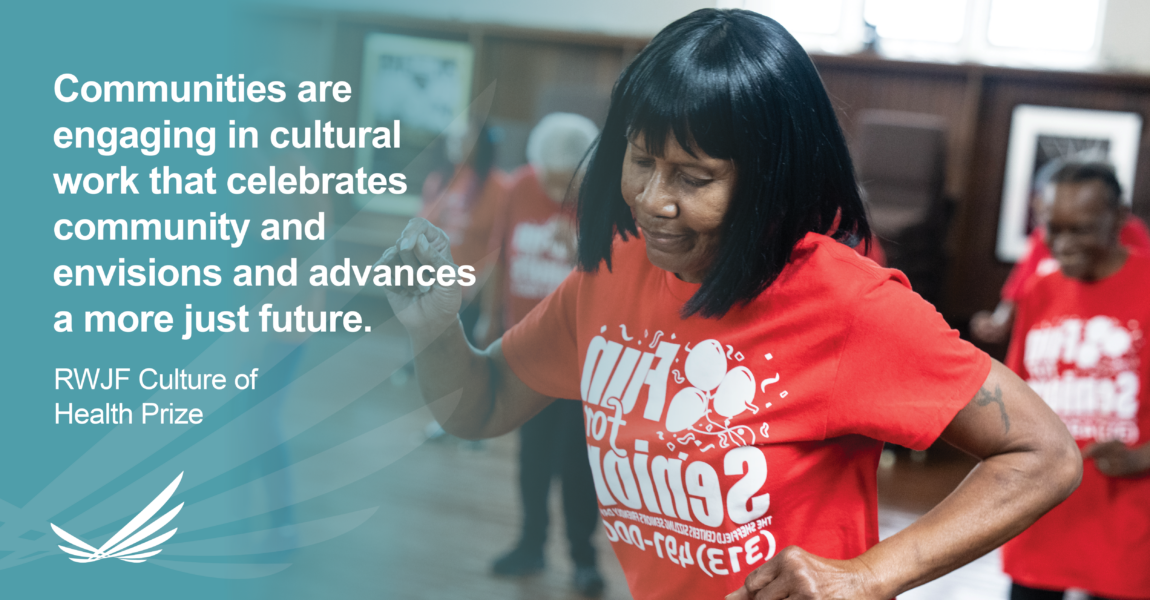 Representatives from The Detroit Association of Black Organizations accepted the award at the RWJF celebration in Albuquerque, NM
FOR IMMEDIATE RELEASE
November 16, 2023
DETROIT— Today the Robert Wood Johnson Foundation (RWJF) announced that Detroit is one of nine communities chosen to receive the 2023 RWJF Culture of Health Prize. The Prize celebrates communities across the country where people and organizations are collaborating to build positive solutions to barriers that have created unequal opportunities for health and well-being.
"We are honored to receive the 2023 RWJF Culture of Health Prize," said Horace Sheffield, III, CEO of The Detroit Association of Black Organizations (DABO), a proud partner in this effort to build a healthier community. "Through innovative collaborations and a shared commitment to tackling complex challenges, we have made significant strides in improving access to healthy food and physical activity, and increasing equity in healthcare. We look forward to building on this momentum and continuing to create a thriving, healthy Detroit for all."
Since partnership within communities is at the heart of the Prize, it is awarded to whole cities, towns, tribes, reservations, and counties. Detroit joins eight other 2023 Prize winners, including Austin, Texas; Baltimore, Maryland; Fond du Lac Band of Lake Superior Chippewa Reservation; Houston, Texas; Los Angeles County, California; Ramsey County, Minnesota; Tacoma, Washington; and Zuni Pueblo.
"The work of our current and past prize winners highlights the real staying power of community-born solutions, and their success inspires greater collaboration across public and private sectors," said Julie Morita, MD, RWJF executive vice president. "This year's winners demonstrate what's possible when we work in partnership and ensure that community members with lived experience take the lead to identify and dismantle barriers to health and wellbeing."
DABO also partners with Choose Healthy Life (CHL), a national nonprofit dedicated to addressing health disparities through the Black church. DABO acts as CHL's hub partner to support ten (10) churches in Detroit. Rev. Sheffield serves as the CHL Clergy Leader for Detroit.
"This award from the Robert Wood Johnson Foundation is not just an honor; it's a testament to the relentless pursuit of health equity and opportunity for all," said Reverend Al Sharpton, Co-Chair of Choose Healthy Life's National Black Clergy Health Leadership Council and founder of the National Action Network. "DABO's tireless work in addressing health disparities and our partnership under Reverend Sheffield's leadership are true beacons of hope, and we are proud to stand side by side to work towards a brighter and healthier tomorrow," added Debra Fraser-
Howze, founder of Choose Healthy Life.
As a prize winner, Detroit will receive $250,000, national and local promotion of our community's stories to inspire others, and other opportunities to expand our networks and accelerate progress toward building a healthy community.
Demonstrating a deep commitment to address structural racism has inspired change in Detroit that cuts across race, ZIP codes, and age groups. Detroit's work exemplifies the strength that comes from partnerships to create more comprehensive solutions to its community's challenges. The Detroit Association of Black Organizations, a federation of more than 130 Black and non-Black organizations, has worked together with many partners across Detroit to build community unity that empowers residents with access to a wide range of resources, services, and education—including high blood pressure screenings, after-school programs, and suicide prevention efforts—and advocates for community needs through the media.

(c) 2023 Samantha Appleton. Photo courtesy of the Robert Wood Johnson Foundation.
###
About the Detroit Association of Black Organizations Established in 1979, the Detroit Association of Black Organizations (DABO) has been a champion for greater unity and opportunities in Detroit's African American community. Through an expansive network of over 130 organizations, DABO strives to create meaningful resources aimed at improving quality-of-life initiatives around the city. For more information on how this organization is inspiring progress through connection and collaboration visit www.dabodetroitinc.com!