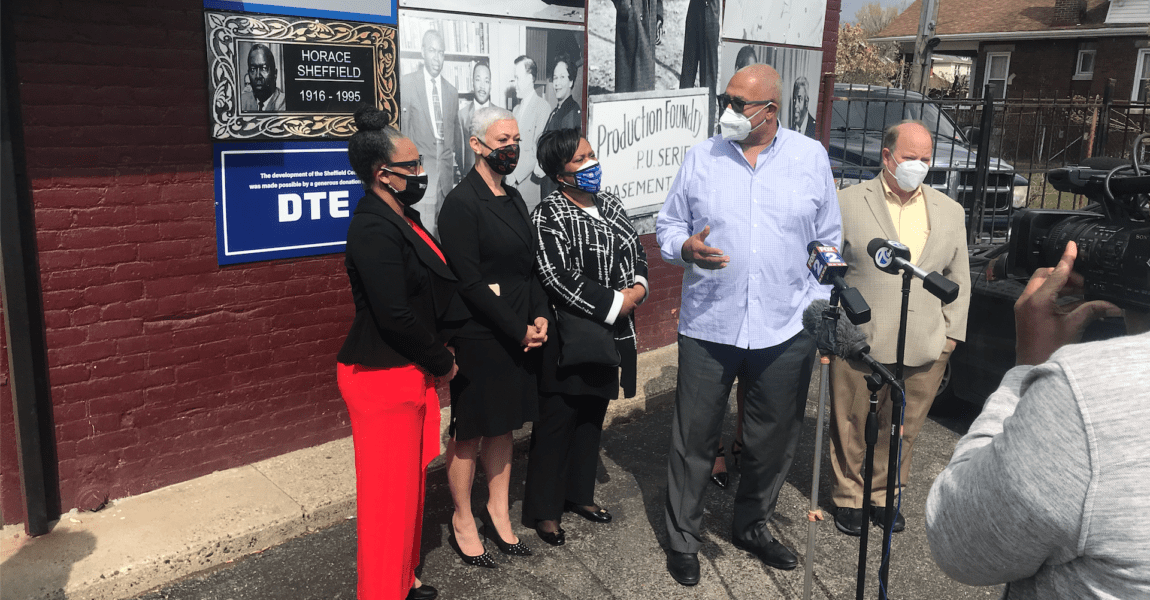 Organizations pull together to tackle COVID-19 testing and vaccinations
DETROIT – Today Mayor Mike Duggan showed his support for COVID-19 vaccinations in Detroit's most underserved communities by visiting the Detroit Association of Black Organization's (DABO) COVID-19 vaccination site at the Sheffield Center. As part of the Choose Healthy Life initiative, DABO has partnered with the United Way for Southeastern Michigan to hold COVID-19 vaccination and testing events. Free COVID-19 vaccinations are offered every Thursday from 10 a.m. to 2 p.m. and COVID-19 testing the second and fourth Saturday of each month.
"We're at a point right now where those who haven't gotten the shot yet, they don't want to hear from Dr. Fauci. They don't want to hear from Gov. Whitmer. They don't want to hear from me," said Duggan. "They want to hear from trusted people in their lives, in their circles. What Rev. Sheffield has done here is taken trust and institution in this community and reach out to people in a way that the government couldn't do."
With the rising COVID-19 cases in Michigan, it is important to help fight the spread of this virus in the black community. With the support of the McGregor Fund, DABO has served as one of the first local neighborhood sites for COVID-19 testing, vaccinations, and health education in Detroit. Community leader, Rev. Horace Sheffield, III alongside DABO has led efforts to stop the spread of the virus through testing and vaccinations. He was at the event with the Mayor and was joined by Choose Healthy Life's founder, Debra Fraser-Howze, United Way for Southeastern Michigan's executive director, Dr. Darienne Hudson, and McGregor Fund's president, Kate Levin Markel.
"With COVID-19 infection and hospitalization rates spiking again, and hitting younger people harder, the work of DABO, Choose Healthy Life and our Detroit Health Department remains critical," said Levin Markel. "People need trusted options for accessing vaccines, testing and treatment, and we're grateful to our community leaders for once again stepping up to reach all Detroiters."
"We've had a great turnout since we started administering the COVID-19 vaccine in March," said Rev. Sheffield. "We want to continue this work and encourage millennials to adopt the vaccine."
The Choose Healthy Life Action Plan is a new and historic partnership between Black churches, public health experts, medical professionals, United Way, and other local agencies, with funding and testing support provided by Quest Diagnostics. Rev. Sheffield leads Choose Healthy Life's initiative in Detroit where his church, New Destiny Christian Fellowship, along with nine other houses of worship have each received funding to support a full-time public health navigator focused on addressing health disparities in the community.
"The work being done by Rev. Sheffield, DABO and the United Way of Southeastern Michigan is so very important in getting testing and vaccines in communities where it is most needed," said Fraser-Howze. "Getting tested and vaccinated for COVID-19 is central to stopping this pandemic in our community."
Choose Healthy Life is a national program that brings together local United Way agencies, health departments and community-based organizations, to ensure that Black churches – the oldest and most trusted institutions in the Black community – receive the necessary resources, training and support to make available health services to the region's most vulnerable individuals. Detroit joins New York City, Atlanta, Newark and Washington, D.C where the program launched with the support of Quest Diagnostics.
"The Faith Forward Fund Partnership is mission-critical right now as the pandemic continues to surge. This continues to create challenges for families throughout our region, especially in Black and brown communities," says Dr. Hudson. "Throughout the pandemic, in addition to addressing the spiritual needs of the community, faith-based organizations have also stepped up to help families with food, clothing, rental assistance, counseling, and so much more. This partnership will support those efforts as well as expand the distribution of the vaccine. We are proud to partner with the City of Detroit and Catholic Charities to support the community outreach efforts of local ministries, churches, mosques, synagogues, and small non-profit organizations."
Mayor Duggan made his first visit to the local vaccination site today as he continues his efforts to encourage everyone in Detroit to get vaccinated. DABO hosts free COVID-19 testing every second Saturday at the Sheffield Center from 10 a.m. to noon and every fourth Saturday at Greater Grace Temple from 9 a.m. to 11 a.m. They have tested approximately 2,000 people through their second and fourth Saturday test site.
For more information about DABO's COVID-19 efforts visit dabodetroitinc.com/covid-19/ or to learn more about Choose Healthy Life, please visit www.choosehealthylife.org/.
###
About the Detroit Association of Black Organizations
Since 1979, the Detroit Association of Black Organizations (DABO) has uplifted, unified, and empowered Detroit's African American community through various programs, initiatives, and events. DABO is a federation of over 130 Black, and non-Black organizations working to build community unity. For more information, please visit dabodetroitinc.com
About Choose Healthy Life: Choose Healthy Life Black Clergy Action Plan is a program developed by D. Fraser Associates (DFA) based on the DFA Choose Healthy Life Standard – a sustainable, scalable, and transferable approach to public health. The highly successful Standard was created by Debra Fraser-Howze, principal at DFA and founder of the National Black Leadership Commission on AIDS to address the AIDS epidemic. It is centered around the Black church – the oldest and most trusted institutions in the Black community. Partnering with United Way agencies, local health departments, and community health organizations, churches receive the necessary resources, training and support to make available health services to the region's most vulnerable individuals. The Choose Healthy Life Black Clergy Action Plan has been made possible through the support of founding partner Quest Diagnostics, the Quest Diagnostics Foundation, and from Resolve to Save Lives, a global health initiative focused on helping advance scalable, proven strategies to prevent and address epidemics. To learn more visit ChooseHealthyLife.org.
About United Way for Southeastern Michigan: United Way for Southeastern Michigan, a member of the United Way Worldwide network and an independently governed 501(c)(3) nonprofit organization, works to help households become stable and ensure children have the support they need to thrive. For more than 100 years, United Way has been a leader in creating positive, measurable, and sustainable change in communities throughout southeast Michigan. United Way works in partnership with donors, agencies, corporate and municipal partners to help families meet their basic needs of housing, food, health care and family finances, and ensure children start school ready to learn and graduate ready for life. To give, advocate, volunteer or learn more, visit UnitedWaySEM.org.