Wayne County Health Disparities Advisory Council
DABO serves on the council to assess, address, reduce and eliminate COVID-19 health disparities in impacted and at-risk racial and ethnic communities across
Wayne County and surrounding areas.
Our Mission
During the Summer of 2022, DABO was awarded funding to develop a regional Health Equity Council. This council is represented by community organizations that actively engage with under-represented communities who have an increased risk of getting sick with COVID.
Throughout their time as a council, they have built meaningful relationships with community members and partners to provide COVID mitigation and prevention resources throughout Wayne County.
This includes distribution of COVID supplies including PPE and testing kits, support of vaccination efforts, and community education. The council has also awarded mini-grants to local organizations who are working to address COVID health disparities and inequities.
Covid-19 Funded Organizations through DABO's Wayne County Health Equity Council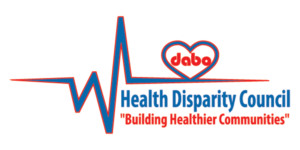 The Wayne County Health Disparity council meets monthly and welcomes community input to increase access to services.
To find more information:
313-491-0003
EA@dabodetroitinc.com